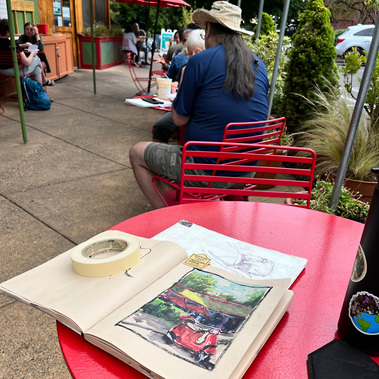 Oregon School of the Arts, Portland OR
Saturday July 27th - Sunday July 28th 2024
Ever wonder how artists prepare for painting outdoors? With this 2 day workshop you will get to experience Sketch School on Saturday. Sketch School will cover all the different drawing techniques which include my favorite contour drawing to capture the true essence of the scene as we embark on exploring our surroundings. Along with setting up our plein air equipment, which might include a portable palette, easel and a foldable chair that will best suit our own needs when in the field. As a warm up we will start off at a local coffee shop to sketch people and some scenes to get a feel of our surroundings. And Sunday using our sketches and doodles from sketch school to start on larger works in and around Portland. Each day of the workshop there will be two demos, one in the morning and one in the afternoon with plenty of time for painting. Plein Air painting can be daunting but with this step-by-step approach, from building your set up to creating a scene you will be able to master the outdoors in no time.

Maestro Che - Loose and Bold
"Paint like a CHAMP and not a Chump!"
Che is a teacher with over 20+ Years of experienced. He has taught 5, 3 and 2 day workshops for Daniel Smith Artist Materials, the Kirkland Arts Center, Oregon Society of Artist and Seattle Co. Arts along with countless demos in and around the Northwest. Che is experienced in all mediums but his specialty are Watercolor and Acrylics. Along with teaching workshops, he has also Juried and Curated many shows for organizations. Maestro Che is currently the Art + Animation teacher at Atlas High School in West Seattle, where he is bring his knowledge and expertise to the next generation.
Che is a versatile artist, from collage, animation, graphic design to portraits he bring all that knowledge to your organization or school. Since he is a jack of all trades, he can definitely bring humor and fun loving attitude that will excite your students and keep them wanting more.
Maestro Che classes ; Watercolor 101 & 102 , Beginning Acrylics and Oils, Teen Drawing and Painting, Beginning Drawing, Animation and Sketch School.
Workshops ; Watercolor Loose and Bold, Watercolor Sticks, Painting in Plein Air
Groups and Organizations

Oregon Society of Artists, Kirkland Art Center , Pratt Center of the Arts , The Northwest Watercolor Society, Seattle Co. Arts , Mt. Si Artist Guild , Daniel Smith Artist Materials, Puget Sound Group of Northwest Artists.